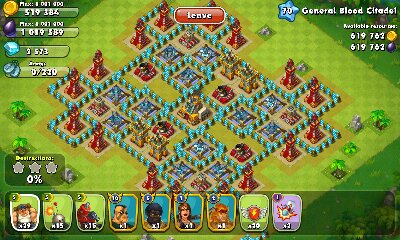 General Information
| | |
| --- | --- |
| | Oil Resouces  |
| 1 000 000 | 1 000 000 |
| | |
| --- | --- |
| Defense Building | Total Number |
| Cannon | 0 |
| Mortar | 4 |
| Watchtower | 4 |
| Jericho | 4 |
| Flame Tower | 16 |
| Death Ray | 12 |
Strategy
Strategy 1: Unit Count 200
25 Gunner
15 Pyro
15 Bomber
Troops will be deployed on the West side of the base, inbetween the Flame Towers. Start by deploying 5 Gunners, followed by all of the bombs. Next drop the remaining Gunners and all of the Pyros. It may help to fill the Clan HQ with other useful troops or by filling them with Bombers that way they all get deployed at once.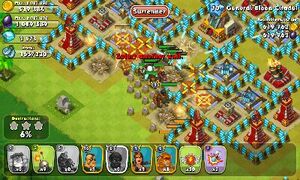 Ad blocker interference detected!
Wikia is a free-to-use site that makes money from advertising. We have a modified experience for viewers using ad blockers

Wikia is not accessible if you've made further modifications. Remove the custom ad blocker rule(s) and the page will load as expected.