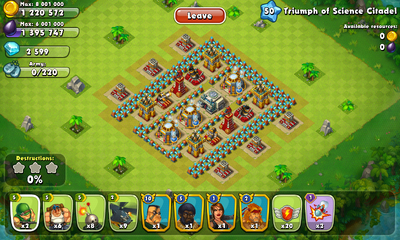 General Information
| | |
| --- | --- |
| | Oil Resouces  |
| 200 000 | 200 000 |
| | |
| --- | --- |
| Defense Building | Total Number |
| Cannon | 2 |
| Mortar | 2 |
| Watchtower | 4 |
| Jericho | 6 |
| Flame Tower | 2 |
| Death Ray | 0 |
Strategy
Strategy 1: 180 unit count
24 Gunners (Level 4)
15 Pyros (Level 3)
I received three stars by deploying 12 Gunners and 7 Pyros to each of the openings on the South side. This base can be destroyed with less troops.
Ad blocker interference detected!
Wikia is a free-to-use site that makes money from advertising. We have a modified experience for viewers using ad blockers

Wikia is not accessible if you've made further modifications. Remove the custom ad blocker rule(s) and the page will load as expected.