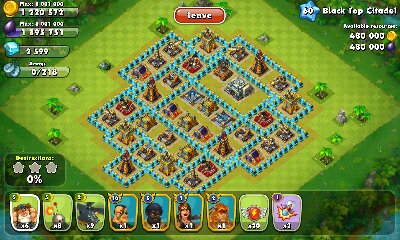 General Information
| | |
| --- | --- |
| | Oil Resouces  |
| 600 000 | 600 000 |
| | |
| --- | --- |
| Defense Building | Total Number |
| Cannon | 8 |
| Mortar | 4 |
| Watchtower | 4 |
| Jericho | 4 |
| Flame Tower | 4 |
| Death Ray | 2 |
| Defdrone | 1 |
Strategy
Strategy 1: 180 Unit Count
24 Gunners (Level 5)
5 Pyros (Level 4)
10 Bombs (Level 5)
30 Riflemen (Level 5)
Deploy Gunners, Bombs, Pyros and Riflemen, in that order, on the North side of the citadel. You shouldn't have any trouble gaining one star on this base, but beware not to deploy all of the riflemen in the same spot or you may see them go splat with a mortar shell. 
Ad blocker interference detected!
Wikia is a free-to-use site that makes money from advertising. We have a modified experience for viewers using ad blockers

Wikia is not accessible if you've made further modifications. Remove the custom ad blocker rule(s) and the page will load as expected.